Everything you need to improve your venue!
We specialise within the hospitality industry, so it doesn't matter whether you run a small independent restaurant or a large-scale chain of restaurants, we've got enough experience to transform your restaurant into a smooth, syncing operation, which will drastically improve your customer service.
We have a number of packages that are incredibly popular with restaurant owners that will also significantly increase their sales too!

What products will suit my venue?
While we have a whole host of packages that will benefit you, we've chosen our top 3 packages our restaurant customers are using the most to help increase their sales…
Bronze Package - £99 per month
Perfect for restaurants to add an extra income for their business via online ordering, whether that's on a webpage from the comfort of their home or table ordering via a QR code. Also comes with a full EPOS system and so much more!
PocketTouch - £30 per month
Our PocketTouch package comes with an ordering tablet which syncs to your EPOS system, either at the bar or kitchen, adding faster service and limiting errors!
Transforms the way food orders are processed. Customer orders are organised and prioritised on a kitchen screen for easy ticket management and so much more!
Alternatively, if there's nothing above that you think your venue will benefit from, click below to view all our packages:
All our products and services feature...

Are you offering takeaways too? If so, on average, we can save you more than £1,500 a month!
If you're providing a takeaway service within your restaurant, chances are you're using a large third party company. One thing that still amazes us, is that businesses are still using these even though they're charging up to 35% commission to sell your orders. Not only that, but most of the time you can't edit your menu without a struggle and have no access to any analysis. Below are just some of the differences that make us stand out from other businesses…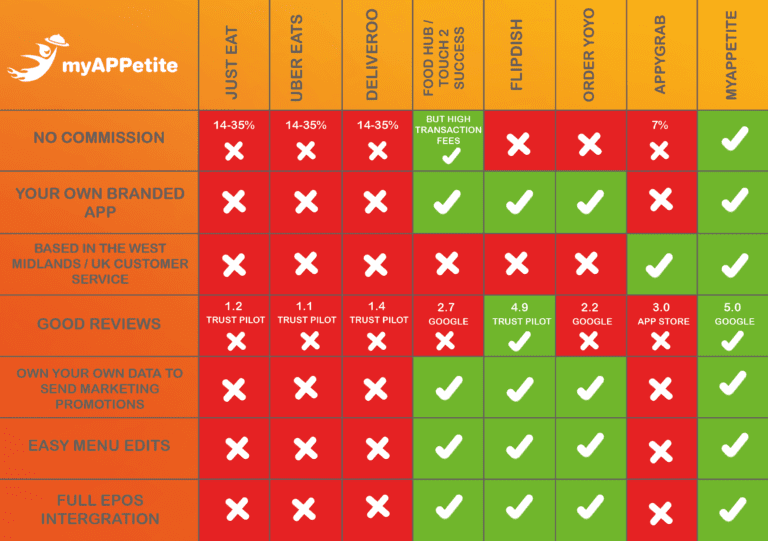 So, how can we actually save you money? Well, that's easy! Simply migrate your customers over from third party companies and use your own branded app that we've designed for you. You'll have 100% of the money made from your orders paid into your account within days! Not only that, but you'll have full access to your own data and be able to pull multiple reports to see your analytics.
But how do we come off big third party companies? Again, this is how we can help. From experience, we have multiple ways in how we can migrate your customers over to your new platform. We've been doing it successfully for years!
So, how do I save £1,500 a month? It's easy to breakdown, simply look below and see how much money you could save…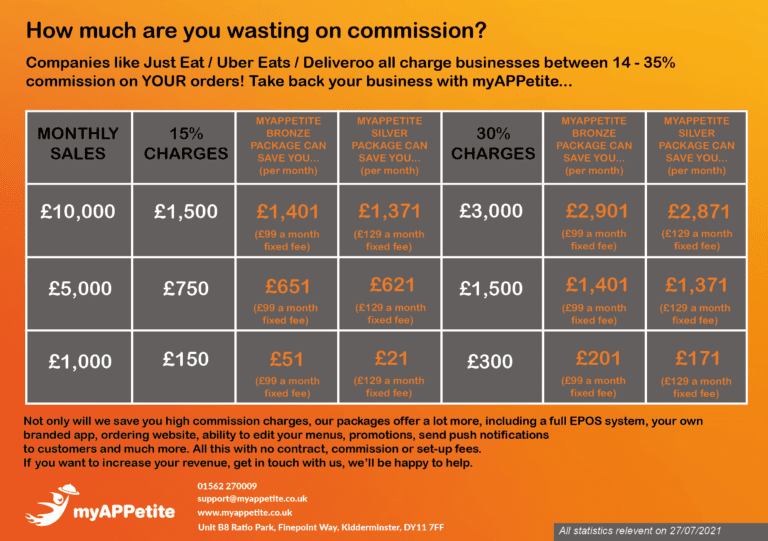 Still not convinced? Don't just take our word for it
We're proud to know that all our services are having a real impact for our customers. But it's easy for us to say that, so don't just take our word for it. Here's Jay, the General Manager of The Lamp Signature, on how much we've helped increase their revenue…
Based in Worcestershire, Indian restaurant chain, The Lamp, has 2 successful restaurants in Cleobury and Bewdley and 1 takeaway venue in Highley. They are currently on our Silver Package, which includes an EPOS system (Touchscreen till, cash drawer, thermal printer, software), Online ordering, ordering app, 1,000 flyers to promote the app and so much more!
Click below to find out more…

Pop-up venue / Hosting a festival?
We understand many restaurants have takeaway pop-up businesses that attend events. If this is the case and you only need a till system for a short-term rental, not to worry, we can help!
And don't forget, if you know someone who would benefit from any of our packages, click here to view our referral scheme, as you could earn some quick cash!
"Working alongside myAPPetite has been great, it's not only brought in an extra source of revenue for us, but it's also improved our customer service, which is really important to us. We can inform our customers how long the delivery is going to take and with the app being so customer-friendly it makes it easier for them to order from us."
Jay, General Manager of The Lamp Signature