Based in Stourport-on-Severn, Worcestershire, Pat's Fish Bar has been supplying quality fish and chips for over 30 years.
However, owner Vass Stylianou, saw the importance of growing his fish and chip shop by offering online ordering, but at the same time didn't want to pay the high commission rates charged by some external companies, such as JustEat, UberEats and Deliveroo.
myAPPetite, who offer a range of ordering solutions ranging from EPOS systems to social media management and has a wealth of experience in building customers' own-branded apps, were more than happy to help.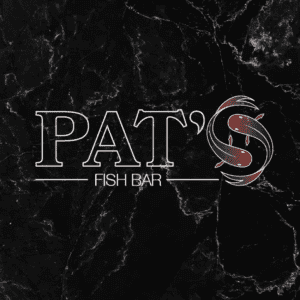 By not charging any commission or set-up fees, it was a no-brainier for Pat's to sign up to myAPPetite's Silver Package. For just £129 a month they now had access to an EPOS system, online ordering, their own branded app, training, support and 1,000 personalised flyers to help promote the app.
myAPPetite's Operations Director, Jamie Turvey, sat down with Vass to discuss the success the app has had on their business…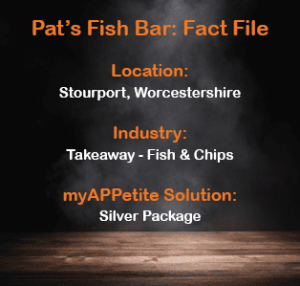 Huge benefits in having your own branded app…
Pat's Owner, Vass stated: "Pat's has always been known around the Wyre Forest area for not only its quality food but having exceptional customer service. We're always looking at ways to improve our service and to make it easier for our customers to order. As with all takeaway businesses, we've seen a change in our customers' ordering habits and just how much online ordering has increased. We were keen to explore our online ordering options and that's when we signed up with myAPPetite.
Operations Director, Jamie Turvey, was thrilled to have Pat's Fish Bar onboard, and said: "Growing up in Stourport, Pat's was known throughout the community as the place to go for your fish and chips. I even remember them sponsoring my first football team as a kid and going down to the shop for a photo, which they displayed in their shop. So, when the opportunity arose to help them out, I was delighted."
Vass continued: "A huge benefit in deciding to work with myAPPetite was actually having access to our own data which other larger companies like JustEat, simply don't allow. At a touch of a button, we can switch off items that have run out of stock so customers can't order them, change our menu prices, create certain promotions, and send out push notifications – all at no extra cost. We are in full control, which is great."
More and more customers are joining the myAPPetite family, not just because its services help increase customers' revenue, but for myAPPetite's own customer service. myAPPetite work on a personal level with businesses to try and understand their needs and creating packages to suit. Pat's Fish Bar was no exception.
Vass commented: "The team at myAPPetite are some of the most professional and engaging individuals I have had the pleasure to work with. All our enquiries are promptly and swiftly taken care of, and the general involvement of the team is second to none."
Jamie added: "The reason why Pat's app is such a success, is that Vass understands the benefits for his business the app provides – and he puts in the effort in promoting the app. He does this by adding downloadable links on their social media channels, getting staff to discuss the app with their current customers, and ordering extra flyers with QR codes to hand to customers to download the app directly."
"I would encourage anyone to consider using myAPPetite"….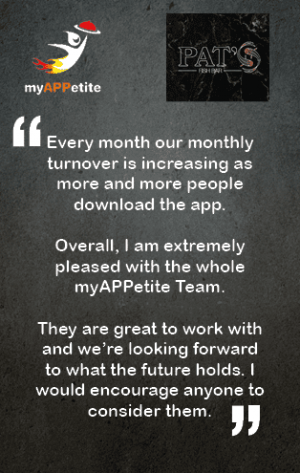 Vass concluded: "Every month our monthly turnover is increasing as more and more people download the app. Overall, I am extremely pleased with the whole myAPPetite Team. They are great to work with and we're looking forward to what the future holds. I would encourage anyone to consider them."
Jamie added: "It's great to see our technology bringing in an extra revenue for Pat's and ultimately saving them money on the high commission rates other businesses charge.
"It's also great to see a fantastic family business growing as their food has always been outstanding. For anyone that hasn't tried their fish and chips you need to try them, obviously through their app 😉"
To place an order with Pat's, click the links to download their app or simply order online…