An award-winning pizza restaurant reached out to myAPPetite for support as it explored the opportunity of an order-ahead service for its loyal customers.
The restaurant, which had been going from strength-to-strength, knew its reputation was primarily built on the food that it served but it considered it equally important to provide an excellent customer service. It was also aware that competitor restaurants were offering customers digital ordering, it wanted to keep up with the competition, delivering on the modern consumer's demand for technology while maintaining the modern, cool brand it had developed.
Working with myAPPetite, the pizza restaurant built a branded mobile app and online ordering portal for its website. Acknowledging that customers would be unlikely to find the service organically, it developed a marketing plan that included a website update, putting the online ordering portal front and centre of the page. Users could now order their food for collection or delivery, paying online through a secure page, seven days a week.
Since launching at the start of 2018, the pizzeria has received 1,000 orders and taken more than £27,000 through the service. It's proven particularly popular for those that prefer to eat pizza in the comfort of their own home; one customer has spent more than £600 on takeaway from the restaurant in just seven months.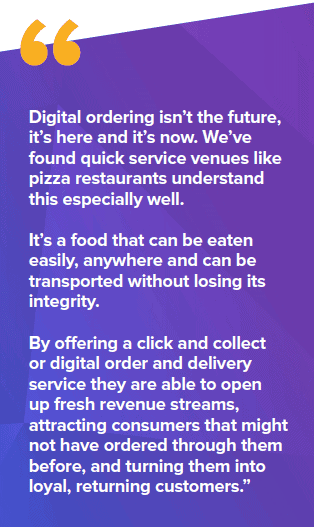 Get in Touch
Find us at the office
Unit B8 Ratio Park, Finepoint Way, Kidderminster, DY11 7FF