Bristol-based FRANK Water is a charity which funds safe water and sanitation projects for marginalised communities in India and Nepal. Alongside traditional fundraising, FRANK Water sells refillable water bottles, cups and flasks as well as bottled water and other merchandise and donates all profits to its safe water programmes. In 2018, FRANK Water teamed up with myAPPetite to offer a pre-order and pay service for British festival-goers at Cornbury, Green Man and End of the Road festivals.
Customers placing orders on the website of each festival in advance had access to exclusive discounts and the opportunity to purchase limited items and merchandise. The service gave its supporters an opportunity to pre-purchase FRANK Water bottles for the event, with free refills, as well as other FRANK Water merchandise. Once at the festival, customers needed only go to the FRANK Water stand with their order confirmation to collect their purchase.
For FRANK Water, the process was straightforward. There was a cut-off period for orders ahead of the festival so the staff were able to simply print out the orders and crossout the orders redeemed. This was particularly easy for the staff to manage. Alongside these benefits, FRANK Water enjoyed better onsite stock control and planning, as well as improved opportunities to up-sell and crosssell products.
The service was a resounding success for FRANK Water:
Half of the available branded Green Man bottles sold via the digital service in advance. The remainder sold out within the first day of the festival. – At the End of the Road festival the charity sold out all its bottles before the festival began.


100% of prepaid orders were collected. The core benefit the charity saw was easier stock control, as it had previously found that it would often overstock bottles that couldn't be returned, because they wouldn't know how many would be purchased on site.
The customer data was also a distinct benefit, enabling FRANK Water to get to know its supporters better. This year FRANK Water is planning to refine its pre-order menu to offer only festival specific branded bottles in advance (the full range will be available on site at every festival). With the refined menu, the charity can start advertising much earlier in order to increase sales of bottles well as reduce wastage to nothing.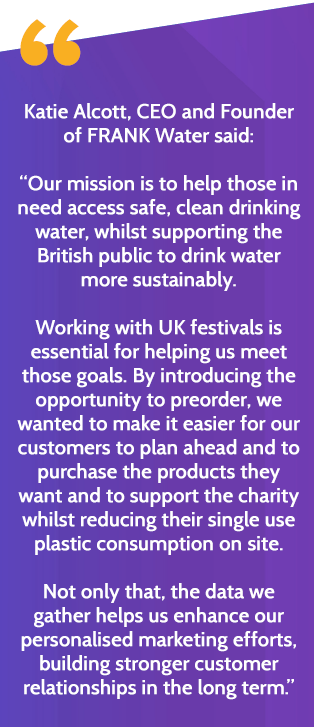 Get in Touch
Find us at the office
Unit B8 Ratio Park, Finepoint Way, Kidderminster, DY11 7FF